Public Masses Cancelled



In the face of the unfolding coronavirus COVID-19 epidemic, there are temporary changes until further notice. All Public Masses, events and meetings are cancelled. Please reference this home page, sign up for our Enews and download our mobile app to keep up to date.

Weekday Mass: Mon—Fri 8:30am English & 10:00am Spanish. Thurs., 7pm Spanish. Sat 8:30am English

Weekend Mass: Sun. 9:30am Latin (EF), 11:00am (Solemn Mass with Incense), 1:00pm Spanish.

Eucharistic Adoration: Has been moved into the church to avoid close contact. Please pray for God's
mercy and healing. Pray for protection and for those that are ill

40 Day Rosary: Daily 5:30PM English, 6PM Spanish

Stations of the Cross: Fridays 3PM

Reconciliation: Confession may not be
celebrated in common, but only individually. No specific times are set, to avoid larger crowds. The Holy See has authorized pastors to use discretion
and provide "Collective Absolution" in moments of pastoral necessity.
Parish Office Hours have been changed to 8am - 12pm until further notice. 515-244-4709
What's Happening in the Parish?!
Continued Giving:
Many people have contacted us asking how to make their weekly tithing contribution and/or ADA contribution when Masses are cancelled. We encourage parishioners to utilize our online giving program. Look for the green dollar sign in the top right corner of this page and click to go to our online giving page. You can also mail to:


St. Anthony Church,

15 Indianola Rd.

,

Des Moines, IA 50315



We would like to thank all of you who continue to make your weekly or monthly donations to our great parish!

We appreciate your generosity!



Join Monsignor In Prayer:

Holy Thursday - 4:00pm Mass Spanish, 5:00pm Mass Latin (EF), 7:00pm Mass English - Stripping of the Altar

Good Friday - 12:00pm Stations of the Cross English, 3:00pm Solemn Service, 5:30pm Holy Rosary English, 6:00pm Holy Rosary Spanish, 7:00pm Stations of the Cross Spanish

In addition to the Rosary that is being prayed each evening at 5:30 in English and 6:00 in Spanish, we will begin the first day of the Divine Mercy Novena on Good Friday. Please join us as we pray this beautiful Novena as requested by Jesus himself for 9 days through Divine Mercy Sunday April 19th.



Divine Mercy Novena Prayer Page

Holy Saturday - 5:30pm Holy Rosary English, 6:00pm Holy Rosary Spanish, 7:00pm Vigil English

Easter Sunday - 9:30am Mass Latin (EF), 11:00am Mass English (Solemn with Incense), 1:00pm Mass Spanish, 5:30pm Holy Rosary English, 6:00pm Holy Rosary Spanish
Welcome to St. Anthony Parish

My Fellow Pilgrims on the road to Calvary and the Cross, The holiest week of the year has dawned. This year we are being called to experience in a new and more dramatic way, the Way of the Cross. Now we can identify even more closely with Christ the fear, loneliness, abandonment, desolation, pain, suffering He endured on His way to His death. As we spiritually accompany Him, we must never lose sight of the fact that he never abandons us— especially when we unite our sufferings to His. We will observe the Holy Triduum together on line. The Holy Spirit will unite us as we open our hearts and minds to the power poured forth on these holiest of days.

On Holy Thursday---we celebrate the institution of the Holy Eucharist. This year—being deprived of physically receiving Communion—I am sure the Lord will touch us in a new way through our prayers on this day---enabling us to appreciate in a deeper way the power of His presence in the Blessed Sacrament. This day too, we commemorate the institution of the priesthood. So many priests on the frontline during this pandemic. Pray for your priests—many who have suffered deeply during these past months—the stigma of a priesthood whose dignity is dirtied by the sins of some priests who have betrayed their sacred calling by sins whose mention sends thunder bolts through the heart of every true believer—breaking the hearts of every faithful priest. May the Lord empower us to be all He needs us to be during this time of great trial.

On Good Friday we stand on Calvary to hear the cry of our Savior, "Father forgive them, they know not what they do." It is all too true that so many times we have failed to recognize and acknowledge our sins—our offenses, our negligence. We have made excuses, hiding behind the cloak of cultural excuse. We tell ourselves: " Sin? What sin? I am no different than the rest. Everyone is doing it. Or everyone isn't doing it….." This is the work of the evil one. This Good Friday invite Christ into your heart in a deeper way—into the center of your family life in a more serious way, taking Christ with us wherever we go. We can no longer afford to leave Him behind. If anything, this pandemic is teaching us this.

On Holy Saturday we stand outside the tomb of the Savior awaiting the power of His resurrection.

Easter Sunday opens the tomb on a God who is alive, and present to us in the present. A God whose name is Jesus—and whose name should be on our hearts and lips–thanking Him especially this Easter—in advance—for the new life He is giving us as we rise above this pandemic crisis and begin a new life--a better and more faith filled life. A life with hope, not grounded in our wealth, our Power, our prestige---our accomplishments—or our sports scores—but in the fact that our life, our future rests in our placing ourselves in the nail scarred hands of the Risen Savior.

May this Holy Week be the best ever.

Monsignor Frank E. Chiodo
Pastor
May God Bless You,
Download Our Parish Mobile App Today!
Just click on the icon to the left, download the appropriate version of the app, open and search for St. Anthony Catholic Church, save it as your favorite, and you're done!
Pastor's Corner - Join the New Evangelism with Monsignor!

Monsignor's Chiodo wants to give you many ways to experience worship and deepen your faith at St. Anthony Parish:

First, we have our weekly 11AM Sunday Mass Livecast - a live feed from St. Anthony for anyone wishing to view.
Next we have short faith filled videos called "Heart's Journey" that are being produced each week. Mini sermons - Why? Fewer and fewer people go to church, yet they are online. Monsignor wants to reach them.
Next, we have short Blog posts from Monsignor on various topics of Worship, and also Blog posts on important topics/people/updates within our parish family.
Finally, we have Audio Podcasts available to deepen your faith.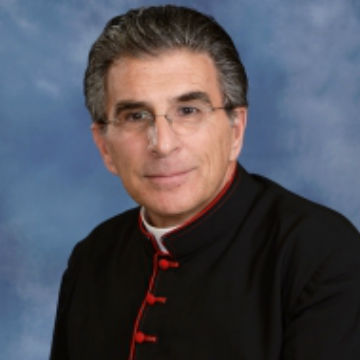 Join Monsignor in the mission for souls!
Use these links and pass them on to friends and family!
Our Mission Statement: To make life-long disciples, baptized in the name of the Father, the Son, and the Holy Spirit, and teach them in all aspects of the One, Holy, Catholic, and Apostolic Church.